01.10.2019 | Ausgabe 10/2019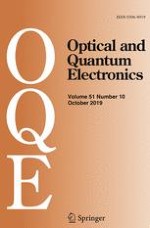 Efficiency enhancement in Si solar cell using 1D quasi-periodic antireflection coating
Zeitschrift:
Autoren:

Amin Abbasiyan, Mina Noori, Hamed Baghban
Wichtige Hinweise
Publisher's Note
Springer Nature remains neutral with regard to jurisdictional claims in published maps and institutional affiliations.
Abstract
In order to enhance the efficiency of thin-film Si solar cell, two well-known Fibonacci and Thue–Morse sequences of 1D quasi-periodic structures have been considered to achieve a broadband (300–1100 nm) planar antireflection coating, in this article. As almost non-absorbing materials in the solar spectrum, TiO2 and SiO2 with optimized thicknesses are considered to eliminate the reflections in the front side of the solar cell. An optimized bilayer antireflection coating with thicknesses of 54.4 nm and 85.6 nm respectively for the TiO2 and SiO2 layers has been obtained. Considering material dispersion and solar power spectrum (AM1.5), maximum efficiency enhancements of 42.78%, 46.15%, and 50% have been achieved for the 3 µm thin-film Si solar cell using the FC(3,1) structure which correspond to the cells without any recombination, with bulk recombination, and with bulk and surface recombinations, respectively. The proposed quasi-periodic multilayer antireflection structures have been investigated and optimized using the TMM and FDTD methods. The electrical characteristic of the design is studied by the drift–diffusion method after extracting the electron–hole pair generation. Also, the stability of the performance of the proposed ARC against induced roughness in practice has been investigated and discussed.