2018 | OriginalPaper | Buchkapitel
20. Eminent Otherness: Toward an Economy of Hospitality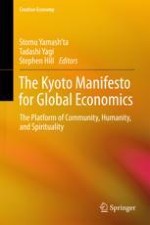 Erstes Kapitel lesen
Autor: C. Edward Arrington
Verlag: Springer Singapore
Abstract
This paper engages the question of economic hospitality , of a radical welcoming of all that is other than ourselves into an economy, a home in which we dwell. The sense of welcoming here, adapted in a simplified way from Emmanuel Levinas , is grounded in a pre-ontological, pre-existential, pre-ethical, pre-social and pre-linguistic absolute regard for the "Other," persons or otherwise. The essay is best understood as a critical exercise in something like a radical and hermeneutic displacement of the most common philosophical and moral protocols of modern economics. Those protocols have to do with the priority of an assumed self, armed with "self-interests" and the power to transform life in the name of those interests in a competitive and strategic world. Otherness, in this scheme, is thus rendered instrumental. Everything other than the self is either possessed in the name of the self or ignored; and, more extremely, is valued only in terms of
what's in it for the self.
That which has nothing "for me" is not welcome. I sense that this posture is at the core of our contemporary economic problems, and I believe that we will make little progress in dealing with those problems unless and until we embrace an alternative axiology to the one described above. I offer one idea—a radical and unwilled hospitality—to help us move into a better place, a place of living well and doing well. That sort of hospitality is a necessary moral-ontological precursor to communities of solidarity and social harmony. I offer this as a thought experiment, hospitality as one idea among many others which make up an "economic imaginary" of how we might live more justly, more peacefully, as economic beings. Thought experiments are among the more potent
practical acts
available to us—democracy, human rights and freedoms, the abolition of slavery and on and on could not have tilled the practical soil without the
ideas
of those who first announced them.
Bold ideas
, ideas that the powers-that-be have always deemed silly and impractical, do in fact make different modes of life possible. Those modes begin with a willingness to entertain a very simple request—"try thinking about it this way."