Erschienen in: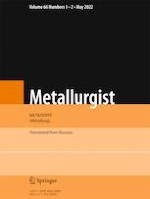 01.07.2022
Enhancement of Charge Loading Operations in the Sintering Machines of Magnitogorsk Iron & Steel Works. Part 2. Formation of the Rational Charge Layer Profile along the Width of the Sintering Machine
Erschienen in: Metallurgist | Ausgabe 1-2/2022
Einloggen, um Zugang zu erhalten
Abstract
The study of [1] considers the effect on the sintering process caused by charge flow stabilization during charge loading operations in the sintering machines. This article presents the results of a study concerning the formation of a rational sinter charge layer profile, consisting in an equalization of the vertical sintering rate along the width of the sintering machines. By introducing this measure at the Magnitogorsk Iron & Steel Works (MMK) sinter plant No. 5, it was possible to achieve a 3.2–3.5% increase in the productivity of sintering machines.