2019 | OriginalPaper | Buchkapitel
10. Exploiting the Web of Law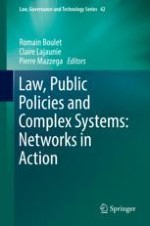 Erstes Kapitel lesen
Autor: Radboud Winkels
Abstract
Within the OpenLaws.eu project, we attempt to suggest relevant new sources of law to users of legal portals based on the documents they are focusing on at a certain moment in time, or those they have selected. In the future we attempt to do this both based on 'objective' features of the documents themselves and on 'subjective' information gathered from other users ('crowdsourcing'). At this moment we concentrate on the first method. In Sect.
10.2
I describe how we
create
the web of law if it is not available in machine readable form, or extend it when that is necessary. Next, I present results of experiments using analysis of the network of references or citations to suggest these new documents. In Sect.
10.3
I describe two experiments where we mix the use of network analysis with similarity based on the comparison of the actual text of documents. One experiment is based on simple bag-of-words and normalisation, the other uses Latent Dirichlet Allocation (LDA) with added n-grams. A small formative evaluation in both experiments suggests that text similarity alone works better than network analysis alone or a combination, at least for Dutch court decisions.