2014 | OriginalPaper | Buchkapitel
2. Firm-Level Business Strategies and the Evolution of Innovation Networks in the Nordic Internet Service Industry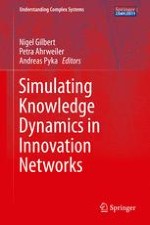 Erstes Kapitel lesen
Autoren: Martin Blom, Jarle Moss Hildrum
Verlag: Springer Berlin Heidelberg
Abstract
This chapter addresses how micro-level preferences and decisions about collaboration made by a large number of heterogeneous firms can affect the macro-level evolution of inter-firm networks and the structure of industrial knowledge bases. We conduct the analysis by way of an agent-based model (ABM) that mimics key stylized facts about firm-level business strategies and innovation networking in the Nordic internet service provider (ISP) industry.
To develop the model, we make use of an existing ABM—Simulating Knowledge Dynamics in Innovation Networks (SKIN) and to visualize the results we use the social network analysis software Gephi. As a means of improving the empirical validity of the model, we iteratively presented and modified the model through a sequence of discussions with strategic analysts at Telenor, a large Norwegian internet service provider.
The paper suggests that the adoption by many firms of a collaboration-oriented and explorative innovation strategy facilitates the evolution of a densely connected regional network in which the participant firms gradually build complex but increasingly similar knowledge bases. By contrast, the adoption by many firms of more internally oriented and exploitative innovation strategies facilitates the emergence of less densely connected networks in which the knowledge bases of the firms are less complex and more heterogeneous. This latter outcome appears to have more beneficial implications for the competitive performance of smaller specialized firms, and for the novelty-generation potential of the industry as a whole.