2015 | OriginalPaper | Buchkapitel
5. Fractional Approaches in Path Tracking Design (or Motion Control): Prefiltering, Shaping, and Flatness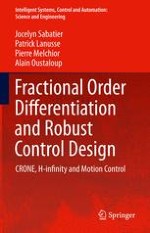 Erstes Kapitel lesen
Autoren: P. Melchior, S. Victor
Verlag: Springer Netherlands
Abstract
Automatic control has a long history in engineering. At the end of the seventeenth century,
Hooke
introduced a system of balls rotating around an axis in which the velocity was proportional to the velocity of the windmill: the greater the ball velocity, the larger the gap from the axis activating the windmill sails in order to reduce the velocity. During the industrial revolution,
Watt
adapted a ball regulator for steam engines: the greater the ball velocity, the wider the opening of a valve that released the steam. By lowering the boiler pressure, the velocity could be reduced. The main problem was to maintain a constant speed despite load variations. In 1868, the physicist
Maxwell
published the first mathematical analysis explaining some of the behaviors observed on the regulators employed at that time. That was the beginning of several studies on stability to which the mathematicians
Hurwitz
and
Routh
were the main contributors. After theoretical and technological developments, it became possible to handle linear and nonlinear multivariable systems thanks to the important contributions of Bellman in dynamical programming (Brassard and Bratley 1996), Kalman (1960) in filtering and linear quadratic control and Pontryagin et al. (1962) in optimal control. Their contributions still feed research in control theory today.