12.07.2019 | Original Paper | Ausgabe 6/2019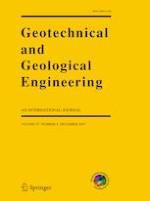 Fracturing Influence on the Propagation of the Blast-Induced Ground Vibrations: A Case Study
Zeitschrift:
Autoren:

Monia Aloui, Chedly Abbes
Wichtige Hinweise
Publisher's Note
Springer Nature remains neutral with regard to jurisdictional claims in published maps and institutional affiliations.
Abstract
Blasting is becoming an important excavation method used in quarries and mining missions. It constitutes a beneficial industrial technology. Nonetheless, a significant part of the used blasting energy is wasted in the form of ground vibration, which may involve a damaging risk to the environment. Blast-induced ground vibrations and their propagation have become a matter of increasing interest to researchers nowadays. Numerous parameters have an effect on the propagation of the blast-induced ground vibration. The current study probed into the fracture network effect on the propagation of blast-induced ground vibrations in an open pit phosphate mine in the region of Metlaoui (Southwestern Tunisia). This allowed a better choice of the exploitations direction, thus contributing to get an optimum blast result respecting the environmental safe limit. During the present study, the ground vibration intensity was measured in terms of peak particle velocity (PPV) (mm/s) and frequencies (F) (Hz). For each blast, five seismographs were deployed for measurements in NE–SW direction at predetermined distances from the blast site to Metlaoui area. The empirical constant K representing the ground transmission coefficient was also calculated. So as to underline the fractures role in the attenuation of the vibratory phenomenon, the relationship between the measured ground vibration parameters (PPV and F) and some fracturing parameters (the cumulated fracture aperture and the cumulated fracturing intensity) was studied. The variations of the transmission coefficient K at different distances from the shooting points were also investigated. It has been shown that, the relations established between the F of the ground vibrations and the cumulated aperture of fractures (CA) obey to a logarithmic law; whereas the variations between the PPV and the CA are governed with a power law. Moreover, it is seen that the variations of the transmission coefficient K are associated to the fracturing.