2017 | OriginalPaper | Buchkapitel
31. From Neural Circuitry to Mechanistic Model-Based Reasoning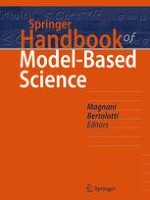 Erstes Kapitel lesen
Autor: Jonathan Waskan
Verlag: Springer International Publishing
Abstract
Model-based reasoning in science is often carried out in an attempt to understand the kinds of mechanical interactions that might give rise to particular occurrences. One hypothesis regarding in-the-head reasoning about mechanisms is that scientist rely upon mental models that are like scale models in crucial respects. Behavioral evidence points to the existence of these mental models, but questions remain about the neural plausibility of this hypothesis.
This chapter will provide an overview of the psychological literature on mental models of mechanisms with a specific focus on the question of how representations that share the distinctive features of scale models might be realized by neural machinations. It is shown how lessons gleaned from the computational simulation of mechanisms and from neurological research on mental maps in rats can be applied to make sense of how neurophysiological processes might realize mental models.
The goal of this chapter is to provide readers with a general introduction to the central challenge facing those who would maintain that in-the-head model-based reasoning about mechanisms in science is achieved through the use of scale-model-like mental representations.