28.08.2018 | Ausgabe 3/2018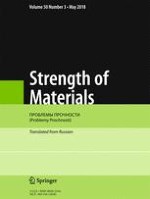 General Case of Nonlinear Deformation-Strength Model of Reinforced Concrete Structures
Zeitschrift:
Autoren:

V. M. Karpyuk, A. I. Kostyuk, Yu. A. Semina
Wichtige Hinweise
Translated from Problemy Prochnosti, No. 3, pp. 105 – 118, May – June, 2018.
The paper considers a nonlinear deformation-strength model of a rebar structure. Within framework of the reinforced concrete mechanics, it allows one to take into account the specific features of the joint operation of concrete and reinforcement components at all loading stages, including failure, in the structure cross sections under the general stressed state conditions. The model is found to be instrumental in practical applications due to the possibility of its application to the design or strengthening of beams, cross-bars, columns, elements of girder frames with the rectangle cross section, as well as to verification of bearing capacity of existing reinforced concrete bar structures, which operate under conditions of complex stress-strain state, including low-cycle pulse loading. The assessment algorithm of the bearing capacity of a reinforced concrete bar (rebar) cross sections under multiaxial stress conditions is proposed. The general physical dependencies for such cross section are reduced to the stiffness matrix. The proposed algorithm includes the input data block, main block, supplementary subprograms of load vector increment check and exhaustion of the bearing capacity, as well as the output data printout block. At each computation stage, all iterations are executed until the accuracy of determining all components of strain vector reaches a certain preset value. The variation patterns of normal and tangential stresses, generalized linear and angular strains are considered. The equilibrium equations of a concrete rebar operating under multiaxial stress conditions are derived.