2017 | OriginalPaper | Buchkapitel
German Film Ventures into the Amazon: Werner Herzog's
Fitzcarraldo

as Prelude to Michał Marczak's Eco-documentary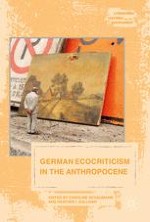 Erstes Kapitel lesen
Autor: Brad Prager
Verlag: Palgrave Macmillan US
Abstract
Where the German director Werner Herzog films ecosystems, his works recapitulate colonialism's contradictions. This chapter begins by examining one of Herzog's short films,
Ten Thousand Years Older
(2001), in which the director and his crew encounter a South American tribe that developed entirely apart from Western society, and it explores the differences between the documentarian's standpoint and that of his various subjects. It then compares Herzog's film with Michał Marczak's Polish-German eco-documentary
Fuck for Forest
(2012). Marczak's camera also witnesses things that the activists who are his film's subjects do not, capturing what eludes his protagonists' Western gazes. Both of these films are cinematic spaces in which rainforest people can be seen and heard, irrespective of their filmmakers' colonial fantasies.