2018 | OriginalPaper | Buchkapitel
1. History of Orchids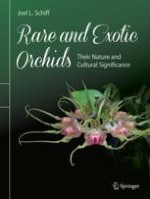 Autor: Joel L. Schiff
Abstract
Orchids are the most highly evolved and diverse flowering plant family on Earth. The origins of these plants date back millions of years. Exactly how old the family is, however, was a longstanding subject for debate, given that there were no remains in the ancient fossil record to work with. That is until recently, when scientists conducting research through Harvard University made an extraordinary discovery [1]. In 2005, a fossil of an extinct bee,
Proplebeia dominicana,
was recovered in the Dominican Republic. The bee specimen was dated to be 15–20 million years old (Fig. 1.1).