2014 | OriginalPaper | Buchkapitel
12. How 3D Complexity of Macrophyte-Formed Habitats Affect the Processes Structuring Fish Assemblages Within Coastal Temperate Seascapes?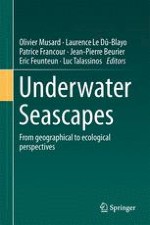 Erstes Kapitel lesen
Autoren: Pierre Thiriet, Adrien Cheminée, Luisa Mangialajo, Patrice Francour
Abstract
Macrophyte-formed habitats are important components of coastal temperate seascapes. They usually host higher diversity and density of fishes, including both adult and juvenile individuals. Here we synthesized the ecological processes underlying differences in fish assemblage structure among habitats, with an emphasis on the effects of habitat architectural complexity, which results in great part from the state of macrophyte assembalges. At a wide spatial scale, oceanographic patterns affect larval survival and dispersal and consecutive broad patterns of juvenile settlement. At a finer spatial scale, architectural complexities of the habitats affect their quality (basically food availability and predation risk) which drives local patterns of juvenile abundances through differential mortality and active habitat selection. Hence, the analysis and understanding of juvenile/adult abundance patterns have to consider nested sets of seascape features.