2018 | OriginalPaper | Buchkapitel
1. How Was the Nerd or Geek Born?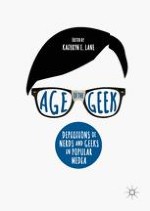 Autor: Kathryn E. Lane
Abstract
Lane offers an evolution of the nerd/geek stereotype through the present day, utilizing a historical retrospective of media. The birth of the "nerd" stereotype is directly connected to television and, through analysis of media through the decades, the nerd/geek's evolution is chronicled, leading to the twentieth-century construct so easily recognized today. The nerd has evolved from its humble beginnings as a social outcast, as depicted in 1978's
Saturday Night Live
episodes, into a mainstream character, as demonstrated on
The Big Bang Theory
, which is ripe for analysis and study. Lane theorizes that the nerd/geek stereotype, more than any other, reveals Western culture's complex relationship with a world dominated by technology.