2019 | OriginalPaper | Buchkapitel
Ichnography, Orthography and Scenography as Forms of Tracing the Past: A Reconstitution of the Roman
Forum

of

Ebora Liberalitas Julia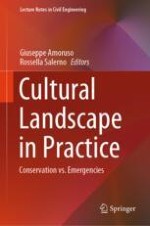 Erstes Kapitel lesen
Autor: Mariana Martins de Carvalho
Abstract
The research presented in this paper is an attempt to understand the central core of a Roman city—the
forum
—from three different forms of representation:
ichnography
(plan),
orthography
(elevation) and
scenography
(perspective). Our laboratory is the monumental centre of Evora, located in the Alentejo, Portugal, where the urban ruins of the Roman temple are located. Here, we are attempting to trace the Roman forum of
Ebora Liberalitas Julia
, in the Roman province of
Lusitania
. In order to comprehend the remaining structure as a whole, a dissection of each fragment was carried out. This was analysed and all the archaeological remains were drawn over the current city plans. This was followed by hypothetical ichnographic, orthographic and scenographic projections which were started rising from this ground. These three forms of expression are the result of thought and invention, such as described by Vitruvius, in his chapter on the fundamental principles of architecture (I, II, 2). In these representations, it is possible to see how each one is increased with a dose of interpretation and analysis of hypotheses. The developed representations are supported not only by archaeological sources, but also by iconographic, literary and historic sources. To study and to draw Roman architecture in an urban context, it is essential to recognize the urban history and the phases through which each building has passed, in order to provide data that will add knowledge to the remaining architecture. Although the purpose of this study is to recognize Roman architecture, it is impossible, in an urban scenario such as this one, not to recognize other periods as well. Considering the importance of the sources and their semantic expression, this essay tries to fill the gap between different types of representation in order to increase the possibilities of a more accurate reconstitution. The ruins, and the archaeological remains that were exhumed, will be our experimental field to try to trace the presence of the past and the different configurations of this monumental centre, as carried out through evidence, knowledge and imagination.