2013 | OriginalPaper | Buchkapitel
Identifying and Addressing Safety Signals in Clinical Trials: Some Issues and Challenges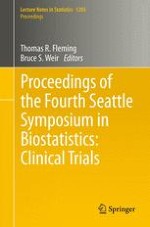 Erstes Kapitel lesen
Autor: Thomas R. Fleming
Verlag: Springer New York
Abstract
Reliable evidence is needed from clinical research about whether the interventions used in clinical practice are safe as well as effective. Regarding risk, safety is not established by failure to establish excess risk, such as obtaining confidence intervals for the relative risk of safety events that include unity. Absence of evidence is not evidence of absence. Rather, safety is established if available data about safety are sufficiently favorable and reliable to rule out the threshold for unacceptable risk, where this threshold should be determined by considering the strength of the evidence for efficacy.
Important insights about safety usually will be provided before marketing through Phase 1, 2, and 3 clinical trials. These insights, especially regarding risks associated with long-term use of the intervention and risks of rare but clinically compelling events, are enhanced by post-marketing active and passive surveillance, and especially by large, long-term randomized trials that provide the most reliable approach for identifying and addressing safety signals. The integrity of these randomized trials is enhanced by preventing irregularities in the quality of trial conduct that would reduce their sensitivity to detecting clinically meaningful safety risks caused by the experimental regimen.
After considering approaches to identifying and addressing safety risks and discussing performance standards to improve the quality of conduct of safety trials, we will consider further the vulnerability to undetected safety risks when evidence for efficacy has been limited to documentation of effects on surrogate endpoints such as biomarkers, and then discuss important considerations regarding cardiovascular safety trials conducted in the setting of type 2 diabetes mellitus.