2020 | OriginalPaper | Buchkapitel
Interaction of Superplasticizers with Cement from the Point of View of Colloid Chemistry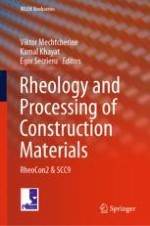 Erstes Kapitel lesen
Autoren: Johann Plank, Manuel Ilg
Abstract
When cement is mixed with water, the clinker phases immediately start to dissolve and a large amount of ions is released into the pore solution. As a result, the ion concentration rapidly increases until the aqueous phase is supersaturated, at which first hydration products are precipitated. As the dissolution, crystallization and the initial hydration reactions all occur at the solid-liquid interface, it is appropriate to consider early cement hydration from the aspects of colloid and interface science.
Generally, fresh cement pastes constitute a thermodynamically unstable colloidal dispersion of mesoscopic particles and hydrate phases in water. The rheological properties (e.g. viscosity, yield stress) and the stability are affected by colloidal and interparticle interactions (e.g. Brownian effects, hydrodynamic and contact forces). However, the poor workability of cement suspensions can be attributed to attractive van der Waals forces between cationic and anionic surface areas. To overcome those forces, superplasticizers are added which disperse cement by imparting an electrostatic (polycondensates) or steric (polycarboxylates) effect. Superplasticizers can interact with cement via adsorption (=physisorption), chemisorption (=intercalation into early hydrate phases) or at low water-to-cement ratios even through repulsive depletion forces induced by the portion of non-adsorbed polymers remaining in the pore solution.
In light of this, the aim of the paper is to give an overview of the different kinds of interactions of superplasticizers with cement from a colloid chemistry point of view. It will be shown, to which thermodynamic parameters the adsorption process is subjected and how the chemical composition of the polymers affects the adsorption behavior. Additionally, experimental methods will be presented that are commonly applied for the investigation of cement-superplasticizer interactions (adsorption and zeta potential measurements). Finally, the role of non-adsorbed superplasticizer molecules on the dispersion of cementitious systems with high solid volume fractions will be discussed.