2006 | OriginalPaper | Buchkapitel
International conventions for marine nature conservation and marine protected areas relevant to the North Sea and the Baltic Sea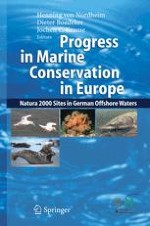 Erstes Kapitel lesen
Autoren: Dr. Henning von Nordheim, Dieter Boedeker, Dr. Jochen C. Krause
Verlag: Springer Berlin Heidelberg
Increasing pressure on marine ecosystems resulting from various kinds of human activities has led to a number of global and regional international initiatives and conventions. Most prominent for northern European Seas are the Convention on Biological Diversity (CBD), the Helsinki Convention on the Protection of the Marine Environment of the Baltic Sea, the OSPAR Convention for the Protection of the Marine Environment of the North-East Atlantic, and the Birds and Habitats Directives of the EU.
The fundamental goals of marine nature conservation can be described as to conserve, protect, restore and manage:
the functioning of marine ecosystems and their services;
the regenerative capacity of natural resources and their sustained availability for human use;
natural diversity, population dynamics, density and age structure of marine fauna and flora;
intact and diverse natural marine habitats and biotopes; and
the characteristic features and beauty of nature and viewscapes.
These conservation objectives can only be achieved if human activities affecting our oceans and seas were conducted by applying six key principles:
(1)
the precautionary principle;
(2)
best environmental practices (BEP);
(3)
best available technologies (BAT);
(4)
the polluter-pays principle;
(5)
the compensation or substitution principle; and
(6)
the avoidance principle.
Further, the ecosystem approach to the management of human activities as has been clarified by the Helsinki- and the OSPAR Conventions should always be applied.
Probably the most effective measure to achieve substantial marine conservation is to establish coherent networks of Marine Protected Areas (MPAs) at regional and global levels. This needs to be complemented by general habitats and species protection and enhancement, as well as by undiminished efforts to reduce unsustainable extraction of natural resources, to minimize eutrophication and pollution and to hinder new discharges to the seas. Red lists of threatened, endangered and/or declining species, habitats or biotopes would help assess the status of marine biodiversity, the effects of human activities, and the possible success of interventions.
This paper describes the most relevant international conventions and regulations with respect to marine nature conservation of the seas in Northern Europe (North East Atlantic and Baltic Sea). The current implementation status of conservation measures and specifically of MPAs and some next steps are also outlined.