2018 | OriginalPaper | Buchkapitel
5. Introduction to Occupant Research Approaches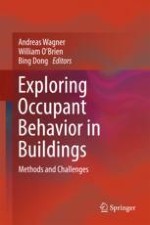 Erstes Kapitel lesen
Autoren: William O'Brien, Andreas Wagner, Julia K. Day
Abstract
There are numerous methods of collecting occupant-related data for the purpose of researching building occupants, each with its own strengths and weaknesses. The objective of this chapter is to guide the decision-making process for researchers who are about to embark on a new occupant data collection campaign. This chapter introduces Chaps.
6
–
8
by overviewing four methods for occupant research: in situ, laboratory, survey, and virtual reality. For each method, the advantages and disadvantages are laid out based on findings in the literature and the authors' experiences. Next, a comprehensive list of occupant-related phenomena of interest is provided, along with a qualitative discussion of the merits of each data collection method for studying them. Finally, mixed methods research approaches—whereby multiple, complementary approaches are adopted in a single study—are briefly discussed. Following this chapter, the reader is presented with three chapters that provide recommended best practice for each of in situ (Chap.
6
), laboratory (Chap.
7
), and survey (Chap.
8
) methods to researching occupants in occupants.