Erschienen in: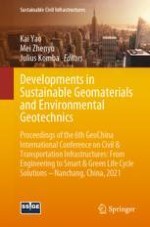 2021 | OriginalPaper | Buchkapitel
Investigation of Hydraulic Conductivity of SHMP Amended Soil-Bentonite Backfills Exposed to Lead-Impacted Groundwater
Abstract
This paper presents results of investigation of hydraulic conductivity of soil-bentonite backfill (referred as SB backfill) and sodium hexametaphosphate (SHMP)-amended soil-bentonite backfill (referred as SHMP-SB backfill) exposed to lead-impacted groundwater. Lead nitrate (Pb(NO3)2) solutions with various concentrations were tested as permeant liquids for the flexible wall permeameter hydraulic conductivity tests. Series of laboratory experiments were conducted to assess slump height of the backfills, free swell index of conventional bentonite with and without SHMP-amendment, and hydraulic conductivity of the backfills in tap water and Pb(NO3)2 solutions. The results showed that the moisture contents corresponding to the target slump were 38% and 32% for SB and SHMP-SB backfills, respectively. The free swelling index of conventional bentonite in the 50–60 mM Pb(NO3)2 solutions was enhanced with SHMP amendment. The hydraulic conductivity of SB and SHMP-SB backfills increased with increasing concentration of Pb(NO3)2 solutions as expected. The hydraulic conductivity of SHMP-SB backfill was below the commonly accepted value (10−9 m/s) regardless of the type of permeant liquid, whereas hydraulic conductivity of SB backfill was higher than 10−9 m/s in the Pb(NO3)2 solutions with concentrations of 50 and 500 mM.