2013 | OriginalPaper | Buchkapitel
Is Climate Change a Reality for Agriculture in Quang Nam Province?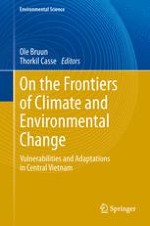 Erstes Kapitel lesen
Autoren: Ngoc Quang Vu, Henning Schroll, Jan Andersen, Søren Lund
Verlag: Springer Berlin Heidelberg
Abstract
The chapter describes changes in agricultural systems in Quang Nam Province since 1990 in an effort to explore if such changes are reflecting strategies of adaptation to climate change. A two-pronged analytical strategy is followed. This explores (a) patterns of correlation between agricultural production, eco-agricultural landscapes, and climate variations, and (b) records stakeholder perceptions of the causal relations between changes in agricultural practices and climate change. It concludes by discussing the concordance and differences found between the two analyses. An overview of agricultural changes was provided through available statistics and interviews and important climate impacts and adaptations were identified and assessed. An energy flow method was used to describe the agricultural situation. From interviews it was found that many Vietnamese authorities and farmers are convinced that climate change is having an impact on farming, forestry and aquaculture today, and consequently, different kinds of adaptations are being introduced. The study shows that farmers in the agricultural field during the last decade have increased productivity and demonstrated a strong ability to adapt farming systems to the impacts experienced from extreme weather events. Forestry adaptation to extreme weather impacts took a long time while aqua culture adaptation occurred rapidly. With regards to correlations of documented patterns of climate variations and changes of agricultural production systems, however, the findings of the study are inconclusive. Long term planning should include concerns of adaptation to climate change and the use of economic incentives.