2018 | OriginalPaper | Buchkapitel
24. Is Living the Good Life Possible in a Lower EROI Future?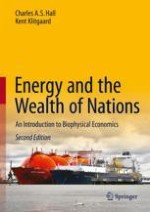 Erstes Kapitel lesen
Autoren: Charles A. S. Hall, Kent Klitgaard
Abstract
We are often accused of being pessimists, probably because we do believe that the future will have at least less oil and perhaps less energy than it does now and we believe that the energy costs of getting whatever fuels we do use will become greater and greater. But, we do not see this automatically as a bad future, depending on how we deal with it. As boys, we both had a wonderful childhood on opposite coasts in the 1950s and 1960s during a period when the US energy use was only 20% of what it is now. We could go fishing and surfing (respectively) on our bicycles and had no need for soccer moms driving us around in an SUV. We played sports all the time with neighborhood friends and went camping and hiking to our heart's content. Nature was abundant, everywhere, exciting, and fascinating. Even today's perspective that there are dangerous people out there and children must be driven everywhere for protection was not valid—and even today youngsters are considerably more likely to die or be hurt in an automobile accident than be kidnapped!