2014 | OriginalPaper | Buchkapitel
Landslide Susceptibility Mapping Using Remote Sensing and GIS: Nueva Colombia, Chiapas, Mexico.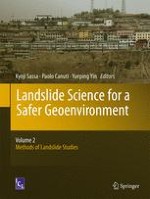 Erstes Kapitel lesen
Autoren: Ixtlitzin Bravo-Carvajal, Ricardo J. Garnica-Peña, Luis C. López-Bravo, Irasema Alcántara-Ayala
Abstract
In Mexico, landslides are one of the most important natural hazards as they cause considerable human and economic losses. Such phenomena are recurring due to the physical characteristics of the country, characterized by mountain ranges with steep slopes, diverse geology and intensive seasonal rains. The physical environment coupled with the impact of human activities, for example, deforestation and land use change, worsen the conditions of the landscape increasing landslide susceptibility.
The village of Nueva Colombia, situated in the municipality of Angel Albino Corzo in the state of Chiapas, is often affected by the occurrence of landslides. In 2005 and 2010, rainfall triggered landslides seriously damaged crops, destroyed housing and disrupted the main infrastructure.
Located in the southern sector of the state of Chiapas, the town is situated in the mountainous part of the Sierra Madre del Sur. Tropical weather of the area involves a strong rainy season, which combined with the mountainous conditions produces high level of susceptibility to landsliding. This situation is of great importance due to the vulnerability of the exposed population, particularly people of the village of Nueva Colombia.
A landslide inventory using SPOT images was used to generate a susceptibility map by implementing the weights of evidence method. This process relied on remote sensing techniques and geographic information systems (GIS). Preliminary results are presented in this paper.