2019 | OriginalPaper | Buchkapitel
LEED and Green Building Designs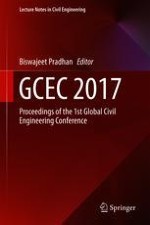 Erstes Kapitel lesen
Autor: Walaa Mohamed Metwally
Verlag: Springer Singapore
Abstract
Scientific consensus agrees that global climate changes over the past centuries until today are due to human activities. And it is a growing threat to environment in the society. With this in mind building industries need to contribute their efforts to encourage a healthier life style and to live in a healthier environment. One contribution devoted to preventing harm to the environment is the (LEED). LEED is a body that provides certifications for Environmental and energy Design from architectural industry to the applicants. It is the only rating system for the green building design that communicates with global sustainable development practices and projects. LEED certification is based on the overall score that is achieved for any given project. This certification will measure the impact of the green building design and sustainability, and it will provide the project with one of the LEED rating levels (platinum, gold, silver and certified), also it will help the project's owner and operators to measure the building's performance. Projects from office towers to single family homes have registered for LEED certification. Some of them have submitted registration for the LEED certification, as a result of the continuous growth that has spurred the recent pricing structure changes. This is a clear indication of LEED's continued strength and value to the growing market places. This paper aims to
1.
Recognize and celebrate high-quality "green" building.
2.
Measure the "green" building solution which is based on sustainable building practices.
3.
Explain how to register a project.
4.
Raise awareness of the efficiency of staff performance in the work place.
The research focuses on two studies in order to reach its aims
1.
First is the theoretical part which is divided into many factors
What is the LEED?

What is the LEED certified to?

What are the LEED measures?

Why certify?

Why are the LEED professional credentials changing?

What are the eligibility requirements for the LEED professional credentials?

How to register a project with the LEED?
2.
Second is the applied part
This part includes the projects submitted for LEED certification, and one is selected for the case studies in Saudi Arabia. Thereafter, the study ends with important conclusions and recommendations.