2017 | OriginalPaper | Buchkapitel
84. Marvin Weisbord: A Life of Action Research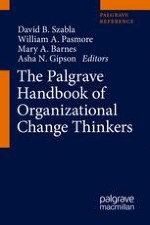 Erstes Kapitel lesen
Autor: Martin D. Goldberg
Verlag: Springer International Publishing
Abstract
Marvin Weisbord's work – as professional author, business executive, organizational consultant, researcher, Future Search method founder, and cofounder of its global network – spanned 50 years. He was a partner in the esteemed consultancy, Block Petrella Weisbord Inc., and he was a prolific writer and thinker, as well as practical craftsman, in the field. He is widely known for his multi-edition,
Productive Workplaces: Dignity, Meaning and Community in the 21st Century
(2012), chronicling the history of organizational improvement, the rise of its seminal concepts, and how he absorbed them in his own personal and professional development and in case studies. He worked and learned from many of the greatest names in organization development (OD) and was influenced intellectually most profoundly by Kurt Lewin. He saw in Lewin's "action research" less of a technical change methodology than a way of thinking about and addressing organizational life and its dilemmas, using one's own and others' experience as the major source of change. This chapter describes the arc of his professional, conceptual, and practice development as an embodiment of action research. It also covers six enduring contributions of his – value-based perspectives, principles, and practices – and explores limitations and renewed possibilities of Weisbord's legacy to the future of the field.