2006 | OriginalPaper | Buchkapitel
Mechanobiology: Computation and Clinical Application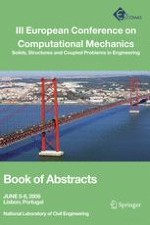 Erstes Kapitel lesen
Autoren: Gerhard A. Holzapfel, Christian T. Gasser, Dimitris Kiousis
Verlag: Springer Netherlands
Some reasons for the present worldwide procession of biomechanics are the exciting new developments in biology and the rapidly expanding field of mechanobiology, which aims to understand how cells respond to changes in their mechanical environment. Mechanobiology also studies the mechanical factors that may be important in, e.g., triggering the onset of atherosclerosis or aneurysms. Because of the inherent geometric, structural and material complexities of biological tissues [
1
], and the spatially non-uniform and time-varying boundary conditions, these type of problems demand computational methods [
2
], sufficient computational resources and graphics capability to display three-dimensional results. Computational models offer the potential to simulate multifield coupled processes encountered in the micro-heterogeneous biological tissues, and to realistically predict physiological functional interactions. Computational mechanobiology of biological tissue is increasing our ability to address multidisciplinary problems of academic, industrial and clinical importance.
This presentation deals with the 3D modeling of balloon angioplasty, in particular of the interaction of balloon, stent and an atherosclerotic carotid artery. The artery is modeled as a heterogenous structure composed of three layers and a plaque. Distinctive attention is paid to the 3D contact of the artery with a stent and a balloon catheter, inflated with the goal to enlarge the area of the vessel. We use a smooth contact representation which is shown to be superior with respect to facet elements discretizing the interacting bodies. In addition, the dissection of the plaque, typically occurring during balloon inflation, is modeled by means of strong discontinuities and the application of the theory of cohesive zones using the partition of unity finite element method [
3
]. Contact pressure between the balloon-stent structure and the arterial wall leads to non-physiological stress concentration that can trigger adverse biological responses of the cells culminating in in-stent restenosis. Indeed, it has been shown that the design of a stent is a major risk factor for restenosis. A strategy of designing novel stents is shown with the goal to minimize vascular injury and to optimize long-term success [
1
].