2015 | OriginalPaper | Buchkapitel
51. Metal Dispersion and Interaction with the Supports in the Coke Production Over Ethanol Steam Reforming Catalysts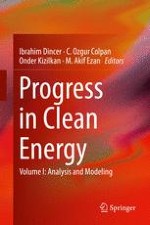 Erstes Kapitel lesen
Autoren: Gianguido Ramis, Ilenia Rossetti, Elisabetta Finocchio, Matteo Compagnoni, Michela Signoretto, Alessandro Di Michele
Abstract
Two families of Ni/TiO2 catalysts were prepared for use in the steam reforming of ethanol. The catalytic performances, in terms of both H2 productivity and stability towards coking and sintering, were related to the physico-chemical properties of the catalysts.
The samples were prepared either by synthesis of the support by precipitation and subsequent impregnation with the active phase, or by direct synthesis through Flame Pyrolysis. Many techniques have been used to assess the physico-chemical properties of both the fresh and spent catalysts. The samples showed different textural, structural and morphological properties, as well as different reducibility and thermal resistance, depending on the preparation method and support.
The performance of the titania-supported catalysts were found very dependent on the preparation procedure, and we may conclude that operation at 625 °C can be satisfactory from all the points of view of activity, productivity and C balance, allowing to limit the heat input to the reactor with respect to operation at 750 °C.