2016 | Supplement | Buchkapitel
Modelling Stochastic Correlation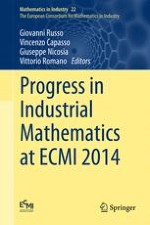 Erstes Kapitel lesen
Autoren: Long Teng, Matthias Ehrhardt, Michael Günther
Abstract
It is well known that the correlation between financial products, financial institutions, e.g., plays an essential role in pricing and evaluation of derivatives. Using a constant or deterministic correlation may lead to correlation risk, since market observations give evidence that the correlation is hardly a deterministic quantity.
Here, the approach of Teng et al. (A versatile approach for stochastic correlation using hyperbolic functions. Preprint 13/14. University of Wuppertal, 2013) for modelling the correlation as a hyperbolic function of a stochastic process is generalized to derive stochastic correlation processes (SCP) from a hyperbolic transformation of the modified Ornstein-Uhlenbeck process. We determine a transition density function of this SCP in closed form which could be used easily to calibrate SCP models to historical data.
As an example we compute the price of a quantity adjusting option (Quanto) and discuss concisely the effect of considering stochastic correlation on pricing the Quanto.