01.12.2016 | ORIGINAL PAPER | Ausgabe 1/2017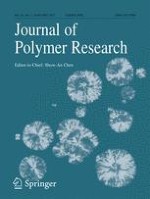 Monte Carlo simulations of cyclization in hyperbranched system of AB

g

type with solvent effect
Zeitschrift:
Autoren:

Yun-Ming Wang, Pei-Yang Chang, Zuo-Fei Zhao, Hai-Jun Wang
Abstract
Cyclization in the hyperbranched polymerization system of AB
g
type under different solvent conditions is studied by the method of Monte Carlo (MC) simulation. For this purpose, we apply a scheme of "generation" to specify the growth of polymers, by which a set of differential kinetic equations describing the growth of treelike and cyclic polymers are given. The rate constants of inter- and intramolecular reactions are further deduced to perform the MC simulation. As a result, the number of treelike polymers and cyclic polymers, the size distribution of rings, and the weight-average molecular weight are presented. Based on the simulation results, a significant effect of cyclization on the average properties of polymers is found. Furthermore, the dependence of cyclization on the monomer concentration, solvent effect, and functionality is also discussed. It is shown that cyclization is determined by the cooperation of these factors, of which the monomer concentration plays a leading role. It is expected that the present study may offer useful clues for designing related materials.