2019 | OriginalPaper | Buchkapitel
3. Monuments and Memorials:
Funu

,

Terus

, and Constructing an East Timorese National Identity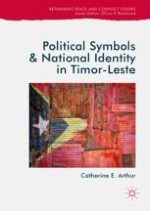 Erstes Kapitel lesen
Autor: Catherine E. Arthur
Abstract
This chapter analyses monuments and memorials as key markers of national identity, embedded in the landscape. Taking examples of military, religious, and civilian monuments and memorials, it explores the symbolic representation of struggle and suffering as core tenets of contemporary East Timorese nationalism. Memorials and commemorative monuments take on a heightened significance in post-conflict states, especially in the East Timorese context where the presence of the dead is keenly felt and believed to have an active influence on social life. An analysis of these identity symbols reveals numerous symbolic conflicts: from the appropriation of nationalist figures by the Indonesian state and post-independence re-appropriation by the East Timorese people, to grassroots memorials that claim ownership of key symbols of nationalism that had previously been monopolised by the resistance-era leadership. Memorials and commemorations built at a grassroots level raise issues of victimhood and recognition, and an analysis of the Santa Cruz memorial elucidates how state national identity narratives can be contested, negotiated, and influenced from the bottom-up.