2019 | OriginalPaper | Buchkapitel
Multi-agent Systems Interacting (Addressing Scopes, Control Resources)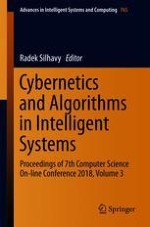 Erstes Kapitel lesen
Autoren: Mohamad Kadi, Said Krayem, Roman Jasek, Petr Zacek, Bronislav Chramcov
Abstract
Multi-agent systems consist of agents and their environment. the agents in a multi-agent system could equally well be robots, humans or human teams. And may contain combined human-agent.
Multi-agent systems can be used to solve problems that are difficult or impossible for an individual agent or a monolithic system to solve. Intelligence may include some methodic, functional, procedural approach, algorithmic search or reinforcement learning.
In a system with agents that have their own objectives and schedules, when tasks are dependent on one another or when resources are to be shared, it can be important to add the function of coordination to the system, otherwise there is a risk of redundancy or even of a "locked" situation occurring.
With the modeling in Event-B we are now ready to make precise what we mean by a "faultless" system, which represents our ultimate goal as the title of this prologue indicates.
In this paper and with the abstract machine, we are going to present a formal approach to develop the addressing and the relation between Multi-Agents and its convenient scope achieving the allocated missions.
On the refinement machine the technique of adding auxiliary resources is considered during the mission life-cycle.