2014 | OriginalPaper | Buchkapitel
4. Nuclear Norm Optimization and Its Application to Observation Model Specification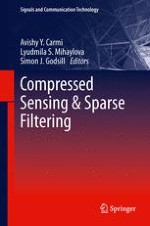 Erstes Kapitel lesen
Autoren: Ning Hao, Lior Horesh, Misha Kilmer
Verlag: Springer Berlin Heidelberg
Abstract
Optimization problems involving the minimization of the rank of a matrix subject to certain constraints are pervasive in a broad range of disciples, such as control theory [
6
,
26
,
31
,
62
], signal processing [
25
], and machine learning [
3
,
77
,
89
]. However, solving such rank minimization problems is usually very difficult as they are NP-hard in general [
65
,
75
]. The nuclear norm of a matrix, as the tightest convex surrogate of the matrix rank, has fueled much of the recent research and has proved to be a powerful tool in many areas. In this chapter, we aim to provide a brief review of some of the state-of-the-art in nuclear norm optimization algorithms as they relate to applications. We then propose a novel application of the nuclear norm to the linear model recovery problem, as well as a viable algorithm for solution of the recovery problem. Preliminary numerical results presented here motivates further investigation of the proposed idea.