2019 | OriginalPaper | Buchkapitel
Occurrence of Apple Powdery Mildew,
Podosphaera Leucotricha

(Ellis. & Everh.) E. S. Salmon in North-Western Region of Bosnia and Herzegovina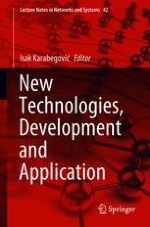 Erstes Kapitel lesen
Autor: Zemira Delalić
Abstract
Apple powdery mildew (Podosphaera leucotricha (Ellis. & Everh.) E. S. Salmon) along with apple scab pathogen (Venturia inaequalis (Cooke) Winter) represents economically the most important apple pathogen. Apple powdery mildew was monitored during 2016 and 2017 in north-western area of Bosnia and Herzegovina at 10 orchards of the following varieties: Idared, Braeburn, Gala, Fuji, Elstar, Granny Smith, Cripps Pink, Jonathan, Golden Delicious and Red Delicious. A scale from 0–5 was used for determination of infection intensity on leaves of the examined varieties. The results were analysed using Townsend Heuberger method providing the infection index. High infection indexes were determined for Idared, Granny Smith, Jonathan (58–80%) in 2016 and 2017, which were therefore categorized as varieties highly sensitive to P. leucotricha. Cripps Pink variety was moderately sensitive. Moderate resistance was registered for varieties: Elstar, Golden Delicious. The lowest infection indexes were recorded for Fuji and Gala varieties (3–8%), while the Braeburn variety did not indicate any infection symptoms. More intensive infections are recorded as a consequence of mild winters, dry and warm weather during spring, heavy fertilization, sensitive varieties and modern breeding methods. Sensitive varieties such as Idared, Jonathan and Granny Smith are usually used for development of orchards, while significance of agrotechnical and chemical measures are often underestimated in apple production. Important protection measures include removal of white infected branches and its disposal. For new orchards farmers should use resistant varieties. The basic protection measure for P. leucotricha is use of fungicides, which may prevent secondary infection of apple fruit, leaves and flowers.