01.06.2015 | Ausgabe 2/2015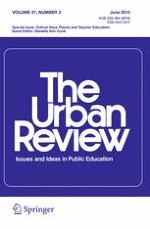 On Being Named a Black Supremacist and a Race Traitor: The Problem of White Racial Domination and Domestic Terrorism in U.S. Teacher Education
Zeitschrift:
Autoren:

Brenda G. Juárez, Cleveland Hayes
Wichtige Hinweise
"Malcolm….I know that you are incredibly angry. Believe me: We
all
know that. It is
always
extremely apparent how
you
feel. I personally perceive you to be an angry Black supremacist, if there is such a thing. And I have to keep asking myself, what would I do if you were a White supremacist instead? And my answer is always the same: anger will not change anything. It never has. It never will."
—E-mail correspondence, Fall, 2009 (emphases in the original).
Abstract
This article is concerned with the preparation of future teachers and the continued Whiteness of teacher education. Using the critical race theory methodology of counter-storytelling, this article presents a composite story to highlight and analyze how race and racism influence the preparation of future teachers in ways that typically sustain rather than challenge the Whiteness of education despite widespread self-reports of successful multicultural teacher education. While a great deal has been written about the need to better prepare future teachers for the multicultural realities of contemporary public schools, less examined is the modus operandi of race-based dominance in teacher education. This article seeks to use an examination of the intersections of White racial domination and the daily business of teacher preparation as a learning tool for pushing forward endeavors to prepare all teachers to successfully teach all students.