2021 | OriginalPaper | Buchkapitel
4. Overall Network and Service Architecture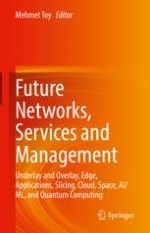 Erstes Kapitel lesen
Autoren: Mehmet Toy, Atilla Toy
Abstract
The current Internet derives mainly from the 1980s and soon after. Among the key objectives were best effort connectivity and simplicity along with the ability to survive some level of link and node failures. Private networks have been used for applications requiring more assured security and privacy, and service quality better than best effort. Transmission rates were in kbps. Nowadays, the rates are in Mbps and Gbps ranges.
New wireline and wireless technologies are pushing the transmission rates from Mbps and Gbps to Tbps. Advances in space technologies are expected to make the space communications a viable alternative to wireline communications. In parallel to the advances in communications technologies, the number of connected devices and traffic is expected to grow to 100 billion devices and 175 ZB (i.e., 175 × 1021) by 2025, respectively. In addition, applications requiring large bandwidth and strict performance are growing rapidly.
As a result, the future networks will consist of many types of integrated networks and no longer be a vehicle only for best effort connectivity, but a programmable infrastructure of connectivity and applications supporting vital and high-precision services that require low latency, appropriate security, and extremely high reliability for communications between most of the locations in the world.
The intelligence is no longer only in the end devices but rather distributed among end devices, data centers, cloud, space, edge, and core devices in the network. As a result, the complexity is increased. To help deal with this increase in complexity, the automation of operational processes for inter- and intra-networking is being worked in the industry. On-demand modifications of network elements and applications are becoming a common trend. The level of intelligence in each component is increased with the proliferation of artificial intelligence (AI)/machine learning (ML) techniques, and advances in memory and computing technologies. By 2030, it is expected that self-managed networks will be available, with substantial user controls and tremendous growth in the services supported by autonomous edge devices.
This chapter divides networks and services into underlay and overlay networks and services. After describing underlay and overlay wireline and wireless technologies, the chapter provides insight into future advances in these areas by 2030 and beyond. Furthermore, the chapter proposes an architecture for future services, a management architecture, and describes application programming interfaces (APIs).