2016 | OriginalPaper | Buchkapitel
Perspectives of Programmatic Advertising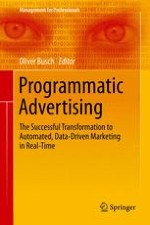 Erstes Kapitel lesen
Autoren: Jürgen Seitz, Steffen Zorn
Abstract
Despite its bright future, programmatic advertising still faces significant hurdles, such as a lack of best practices beyond remarketing and premium inventory, the problem of cross-device adaptability and a lack of subject experts. In addition, there are risks such as the increasing use of ad-blocking software, potential restrictive privacy regulations and an increasing focus on CMOs' own media channels and content marketing approaches. Similar to the Internet's development, the authors see an initial hype, a subsequent disillusionment followed by a continuous rise of programmatic advertising. This implies a significant change in the value chain. Established global suppliers are particularly well positioned, but truly innovative start-up companies also have an opportunity to succeed in this environment.
To fully exploit the programmatic advertising potential, the focus of data-driven advertising and marketing needs to be extended to channels & formats beyond display advertising such as video, social media, mobile and native advertising. For content creation and distribution, programmatic approaches are also of growing importance. With an increasing use of programmatic systems, the user becomes more important; the mapping of customer journeys across channels becomes elementary. The communication context is becoming more important than the channel. The recipient uses his mobile at home and while commuting, but his needs at home differ significantly from the needs while being on the road.
Due to explosive growth in available data, increasingly affordable and high-performance databases, and growing in-house analysis capabilities, knowledge of relevant data points and user groups will significantly increase. Instead of individual campaigns, continuous and targeted marketing programs are increasingly popular.
The imminent problem of monetizing mobile traffic is a major driver for growing data-driven marketing performance. Media publishers will either solve this problem through an intelligent combination of data and content or they will perish. But mobile web technology is also a huge opportunity. The "Web of things" drives programmatic advertising to new dimensions. The combination of real-world user data and online data will offer new opportunities. Despite all technical enthusiasm, the tension between human marketing experience and machine learning remains. People do business with people; technology has a supporting function. Programmatic meets real life.