2020 | OriginalPaper | Buchkapitel
7. Prioritizing the Investments Needed to Avoid the Unmanageable (Mitigation) and to Manage the Unavoidable (Adaptation)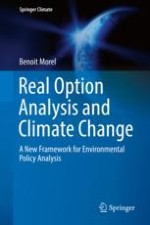 Erstes Kapitel lesen
Autor: Benoit Morel
Abstract
According to the present "scientific evidence," the "unmanageable" is part of our possible futures. Mitigation of CO
2
emissions is an imperative. There are many sources of emissions of greenhouse gases (GHGs), and however global the mitigation effort may be, it has a strong local component. The rest of the world has a vested interest in mitigation efforts everywhere. It is a case of "act locally but think globally." Mitigation involves also transitioning to a greener economy. Adaptation, on the other hand, is the purview of individual countries. Their needs and situations differ widely. Most countries have an adaptive capacity gap, including the USA (Preston et al.
2011
). That was eloquently illustrated by the devastation that Hurricane Katrina brought to New Orleans in August 2005. Still, the gap is as a rule more pronounced in poor countries, which are also the least equipped to fill it. Furthermore, adaptation intersects with other concerns: "Climate change adds to the list of stressors that challenge our ability to achieve the ecologic, economic and social objectives that define sustainable development" (IPCC
2007
).
This chapter discusses the interface between real option analysis (ROA) and the response to climate change in general terms. The interface is rather complex and involves quite a few moving parts. In this chapter those issues are discussed in general. A more pedestrian introduction to how to operationalize ROA in the context climate change investments can be found in Appendix B.