2017 | OriginalPaper | Buchkapitel
Redemption: Real-Time Protection Against Ransomware at End-Hosts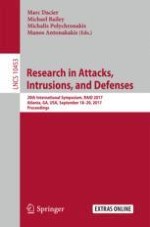 Erstes Kapitel lesen
Autoren: Amin Kharraz, Engin Kirda
Abstract
Ransomware is a form of extortion-based attack that locks the victim's digital resources and requests money to release them. The recent resurgence of high-profile ransomware attacks, particularly in critical sectors such as the health care industry, has highlighted the pressing need for effective defenses. While users are always advised to have a reliable backup strategy, the growing number of paying victims in recent years suggests that an endpoint defense that is able to stop and recover from ransomware's destructive behavior is needed.
In this paper, we introduce
Redemption
, a novel defense that makes the operating system more resilient to ransomware attacks. Our approach requires minimal modification of the operating system to maintain a transparent buffer for all storage I/O. At the same time, our system monitors the I/O request patterns of applications on a per-process basis for signs of ransomware-like behavior. If I/O request patterns are observed that indicate possible ransomware activity, the offending processes can be terminated and the data restored.
Our evaluation demonstrates that
Redemption
can ensure zero data loss against current ransomware families without detracting from the user experience or inducing alarm fatigue. In addition, we show that
Redemption
incurs modest overhead, averaging 2.6% for realistic workloads.