15.05.2019 | Technical Note | Ausgabe 6/2019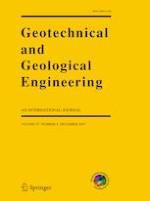 Research on Support of Deformation of Mining Side Gob Along High-Stress Mining Roadway
Zeitschrift:
Autoren:

Yanhui Li, Limin Liu, Jiaxin Sun, Yang Li, Xu Yan
Wichtige Hinweise
Publisher's Note
Springer Nature remains neutral with regard to jurisdictional claims in published maps and institutional affiliations.
Abstract
The stress distribution of surrounding rock is uneven under mining dynamical pressure, which results in serious breakage. And roadway sides slide inward that leads to roof further crushed. In this paper, the theory of self-stabilizing balanced arch is used to analyze the failure mechanism of surrounding rock and to calculate the range of easy falling area. That can effectively prevent breakage on roadway and can increase strength supporting reasonably. According the supporting situation on the Guotun coal mine, author proposed two feasible supporting schemes. By comparing FLAC3D simulation deformation maps, we can see that increasing appropriately the density of bolt in the roadway sides that can increases the strength of surrounding rock. That also can increases the supporting ability to roof. With the Guotun coal mine as the engineering background, author finally elected the strengthen asymmetric supporting scheme. That increases the supporting strength at the roadway sides and corners. And the concrete scheme is that the different numbers and the same type Φ20 × 2400 mm (Q500) bolts respectively arranged on the goaf side and the solid coal. Every of the roadway corners arranged a Φ21.6 × 4000 mm anchor cable with an inclination of 19°. Roadway roof arranged three the same type anchor cable. They can make "top-side-bottom" combination anchored in the stable rock stratum. The engineering observation showed that the max roadway roof deformation was 42 mm on the 26th day and that of two roadway sides were 30 mm on the 24th day and there remained stable afterwards. Asymmetric supporting in roadway sides that can balances the stress of surrounding rock and can reduces roadway sides slide inward. Increasing supporting strength to roadway sides and corners that can makes the "top-side-bottom" combination be more and more stable. This scheme can better solves the uneven deformation problem on roadways and guarantees faster and safer production.