01.03.2015 | Original Paper | Ausgabe 3/2015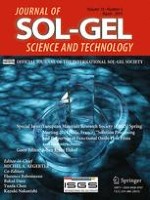 Selective inclusion of chromophore molecules into poly(styrene-
b

-methylmethacrylate) block copolymer nanodomains: a study of morphological, optical and electrical properties
Zeitschrift:
Autoren:

Claudia Diletto, Pasquale Morvillo, Rocco Di Girolamo, Finizia Auriemma, Claudio De Rosa
Abstract
Innovative nanocomposites based on a nanostructured block copolymer (BCP) matrix whose lamellar nanodomains are selectively loaded with organic molecules, were prepared. A symmetric poly(styrene-
b
-methylmethacrylate) (PS-
b
-PMMA) amorphous BCP showing a lamellar morphology was employed. Thin films of PS-
b
-PMMA were deposited by spin-coating on indium thin oxide (ITO) substrate in order to achieve orientation of lamellae with the lamellar surface perpendicular to the substrate. Nanocomposites were then prepared by selective incorporation of [6,6]-phenyl-C61-butyric acid methyl ester (PCBM) molecules into the PS lamellar domain. The self-assembly of the BCP generated the nanotemplate to selectively control the spatial location of the PCBM molecules, in which the apolar properties of PS block provided the physical stabilization for achieving uniform PCBM distribution. These innovative approaches can be utilized as a tool to realize memory devices.