2020 | OriginalPaper | Buchkapitel
Semiotic Analysis of the Greek Tourism Organization's Spot "Greece: A 365-Day Destination"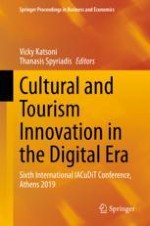 Erstes Kapitel lesen
Autoren: Sofia Tsiftelidou, Anastasia-Charikleia Christodoulou
Abstract
Changes in the international landscape of tourism, along with the economic crisis and new developments in Greece's economic activity, brought to the table the need for new proposals in the tourism sector that include planning from the start of the tourist product with the emergence of every advantage for each region—region separately. However, in order to be successful, this promotion should include a clear plan, objectives, analysis of the external and internal environment, timetables for implementation and monitoring of the results. It is, therefore, a tool for tourism development, such as Strategic Marketing Planning (Middleton, Marketing in travel and tourism. Butterworth-Heinemann, Oxford,
2001
). The strategy, as Michael Porter (1980) says, is advised to do different things than your competitors or to do the same in a different way. The present study focuses on the semiotic analysis of Greece's spot, Greece 365-day destination, which is on the official website of the Greek National Tourism Organization (
www.​visitgreece.​gr
). The semiotic analysis of the spot briefly presents the theoretical, methodological tool of the research, as well as the context of the research (goal, corpus of analysis, case study). The originality of the research is because it studies with semiotic analysis the structures of significance of the strategic planning of the Greek Tourism Organization and the spot of Greece on the official website of the Greek National Tourism Organization. The question that arises in the context of a semiotic analysis is a why analysis. It is known that language is not socially innocent, as the words are invested with associative charges (Greimas, Semantique structural. Recherche de method. Larousse, Paris,
1966
). The language translates numerous information and ideological messages (Greimas, Structural semantics. Method search. Patakis, Paris,
2005
). The authors suppose, therefore, that the two kinds of texts have a relationship not only conceptual but also ideological, which is expressed in linguistic terms with conscious or non-legislative choices (Boklund-Lagopoulou, The dynamics of points. Fields and methods of a socio-legislative. Observer, Thessaloniki,
1986
).