2014 | OriginalPaper | Buchkapitel
17.
Sepioteuthis lessoniana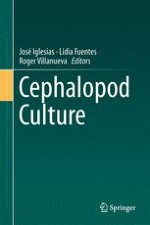 Erstes Kapitel lesen
Autoren: Jaruwat Nabhitabhata, Yuzuru Ikeda
Verlag: Springer Netherlands
Abstract
Sepioteuthis lessoniana
is a demersal neritic species that inhabits coral and rock reefs, seaweed, sea grass beds, and estuaries. Due to its wide distribution range in the Indo-Pacific region,
S. lessoniana
is an economically important resource of many countries.
S. lessoniana
has been successfully cultured through multiple generations since the 1960s in both open and closed seawater systems in Thailand, Japan, and the USA. The objectives of aquaculture studies are the production of human food in tropical countries and experimental animals in temperate countries.
S. lessoniana
hatchlings are larger than other loliginid squids, which enables good adaptation to culture conditions and a very high growth rate through the entire life cycle. In tropical waters, individuals can grow to 500 g in less than 150 days. This rapid growth results from a high feeding rate and requires a massive supply of live feed organisms during the early phase of life. The grow-out phase begins after
S. lessoniana
can accept dead feed. Further studies of artificial feed or mass production of live feed is required in order to make aquaculture of
S. lessoniana
economically viable on a large scale. The method and studies of
S. lessoniana
culture in tropical and temperate waters are reviewed.