1994 | OriginalPaper | Buchkapitel
Slaframine and Swainsonine Production by Rhizoctonia Leguminicola Isolated from Six Outbreaks of Slobbers in Cattle and Horses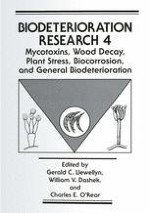 Autoren: Linda R. Daniel, Winston M. Hagler Jr., Warren J. Croom Jr.
Verlag: Springer US
Enthalten in: Professional Book Archive
O'Dell et al. (1959) in Missouri reported their investigations into "slobbers," a syndrome characterized by slobbering and other toxic symptoms in ruminants and horses consuming red clover (Trifolium pratense L.) and, rarely, other legume forages, particularly alfalfa (Medicago sativa L.). Death of an animal was unusual, but was reported in a few cases. Slobbers (salivary syndrome) in cattle and horses was shown during the late 1960's to be due to the consumption of legume forages infected with a non-spore producing fungus Rhizoctonia leguminicola (Gough and Elliot, 1956). Smalley et al. (1962) first isolated the causative fungus and Gardiner et al. (1968) published the strcuture of an indolizidine alkaloid (1-acetoxy-6­aminooctahydro-indolizine) given the trivial name, slaframine, which reproduced the syndrome in livestock and laboratory animals (Aust et al., 1968) when administered in purified form. Hagler and Behlow (1981) were the first to directly identify the presence of slaframine in samples of red clover hay that caused salivation in horses. Broquist et al. (1985) identified swainsonine (1,2,8-trihydroxyoctahydroindolizine), a structurally related alkaloid, in the same hay sample.