2017 | OriginalPaper | Buchkapitel
Solar Atlas: One Quarter of 1 % of Turkey's Surface Area Is Sufficient to Meet All the Power Demand with PV by 2050!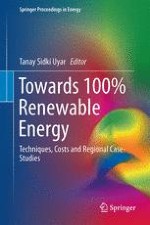 Erstes Kapitel lesen
Autoren: Jean-Philippe Denruyter, Mustafa Özgür Berke
Abstract
The way we produce and consume energy is not sustainable. As of 2010, 90 % of primary energy consumption in Turkey is from fossil fuels, while the share of renewables is only around 6 %. Fossil fuel sources are the main contributors to human-induced climate change.
"The Energy Report" by WWF shows that using today's technologies, it is possible to meet all the global energy demand by 2050 with a combination of energy conservation and widespread deployment of renewable energy generation. There is neither a single path nor a single resource, which is going to take us to the 100 % renewable energy target. It is rather a combination of different strategies, sources, and tools.
While fossil and nuclear energy have severe global and local impacts on the environment, it is important to recognize that renewable energy development will, to a lesser extent, also have local impacts on people and ecosystems. Recognizing these impacts and figuring out ways to minimize these impacts will provide a competitive edge to renewable energy development. Indeed, renewable energy can develop in harmony with humans and nature.
The paper focuses on a single aspect of the renewable energy impact debate:
the land use of photovoltaic electricity
. Even though it currently provides just 0.1 % of global electricity demand, the annual growth rate of PV since 2000 has been over 40 %. According to Bloomberg New Energy Finance, PV has already reached grid parity in a number of countries and given enough scale, it is expected to reach grid parity in Turkey by 2014. Apart from "cost" discussion, proponents of conventional energy argue that solar energy requires a vast amount of land.
The aim of this paper is to provide a science-based counter argument. The paper concludes that it would take an area of 763 km2, to provide all of the current electricity consumption of Turkey by PV. For 2050, the required area would be 1600 km2, less than a quarter of 1 % of Turkey's total surface area.