01.02.2020 | Ausgabe 1/2020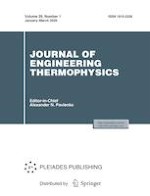 Statistical Signature of Vortex Filaments in Classical Turbulence: Dog or Tail?
Zeitschrift:
Autor:

S. K. Nemirovskii
Abstract
The title of this paper echoes the title of a paragraph in the famous book by Frisch on classical turbulence. In the relevant chapter, the author discusses the role of the statistical dynamics of vortex filaments in the fascinating problem of turbulence and the possibility of a breakthrough in constructing an advanced theory. This aspect arose due to the large amount of evidence, both experimental and numerical, that the vorticity field in turbulent flows has a pronounced filamentary structure. In fact, there is unquestionably a strong relationship between the dynamics of chaotic vortex filaments and turbulent phenomena. However, the question arises as to whether the basic properties of turbulence (cascade, scaling laws, etc.) are a consequence of the dynamics of the vortex filaments (the `dog' concept) or the latter have only a marginal significance (the `tail' concept). Based on well-established results regarding the dynamics of quantized vortex filaments in superfluids, we illustrate how these dynamics can lead to the main elements of the theory of turbulence. We cover key topics such as the exchange of energy between different scales, the possible origin of Kolmogorov-type spectra, and the free decay behavior.