2015 | OriginalPaper | Buchkapitel
Steiner Trees with Bounded RC-Delay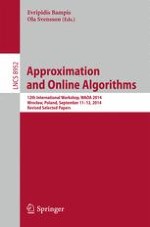 Erstes Kapitel lesen
Autor: Rudolf Scheifele
Abstract
We consider the
Minimum Elmore Delay Steiner Tree Problem
, which arises as a key problem in the routing step in VLSI design: Here, we are given a set of pins located on the chip which have to be connected by metal wires in order to make the propagation of electrical signals possible. Challenging timing constraints require that these electrical signals travel as fast as possible. This is modeled as a problem of constructing a Steiner tree minimizing the
Elmore delay
[
9
] between a source vertex and a set of sink vertices. The problem is strongly
\(NP\)
-hard even for very restricted special cases, and although it is central in VLSI design (see e.g. [
18
]), no approximation algorithms were known until today.
In this work, we give the first constant-factor approximation algorithm. The algorithm achieves an approximation ratio of
\(3.39\)
in the rectilinear plane and
\(4.11\)
in metric graphs. We also demonstrate that our algorithm brings improvements on real world VLSI instances compared to the currently used standard method of computing short Steiner trees.