2016 | OriginalPaper | Buchkapitel Open Access
7. Stocks and Flows in the Performance Economy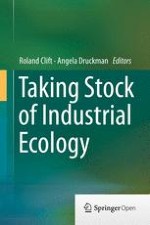 Autoren: Walter R. Stahel, Roland Clift
Abstract
The performance economy is a concept which goes beyond most interpretations of a "circular economy": the focus is on the maintenance and exploitation of stock (mainly manufactured capital) rather than linear or circular flows of materials or energy. The performance economy represents a full shift to servicisation, with revenue obtained from providing services rather than selling goods. While the form of industrial economy which has dominated the industrialised countries since the industrial revolution is arguably appropriate to overcome scarcities in a developing economy, the performance model is applicable in economies close to saturation, when the quantities of new goods entering use are similar to the quantities of goods being scrapped at the end of life.
Key elements of the performance economy are re-use and re-manufacturing, to maintain the quality of stock and extend its service life by reducing material intensity, i.e. the material flow required to create and maintain the stock. Because material flows represent costs which reduce the revenue from service provision, business models inherent in the performance economy support the macro-level objective of extending service life and thereby minimising material intensity. Product life in the performance economy is limited by technological improvements in the efficiency of manufactured capital rather than by damage, wear or fashion.
Re-use and re-manufacturing tend to be more labour-intensive and less capital-intensive than virgin material production or primary manufacturing. This enables re-use and remanufacturing to be economically viable at smaller scales. It also enables these activities to substitute labour for energy, reversing the trend which has characterised industrial economies and offering ways to alleviate current environmental, economic and global challenges; i.e. to make the economy more sustainable. However, there are significant barriers to adoption of the performance economy model, partly because economic and business models generally focus on flows (GDP or added value) rather than prioritising the quality, value and use of stock. Promoting the performance model may require a complete re-think of public policy, away from subsiding to taxing use of non-renewable resources and away from taxing the use of renewable resources, of which labour is possibly the most important. Recent analyses of the social costs of unemployment and potential social benefits of a more resource efficient performance economy provide some of the evidence supporting a shift from flow to stock management.