10.01.2019 | Electronic materials | Ausgabe 8/2019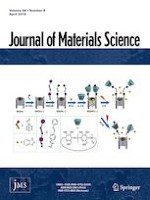 Structural evolution and electrical properties of metal ion-containing polydopamine
Zeitschrift:
Autoren:

Haoqi Li, Tim Marshall, Yaroslav V. Aulin, Akila C. Thenuwara, Yao Zhao, Eric Borguet, Daniel R. Strongin, Fei Ren
Wichtige Hinweise
Electronic supplementary material
Abstract
Polydopamine (PDA) is a biopolymer that can be synthesized under mild conditions. Thermal annealing can convert PDA into a conductive phase, the so-called carbonized PDA (cPDA). This work studied the effect of three metal ions, i.e., Cu2+, Mg2+, and Na+, on the synthesis of PDA and its conversion to cPDA. Both Cu2+ and Mg2+ could interact with PDA, which in turn influenced (1) the growth of PDA thin film, (2) morphology change of PDA particles upon thermal annealing, and (3) the electrical properties of heat-treated thin films. In contrast, the presence of Na+ ion during the synthesis of PDA did not show any effect. In this study, the morphology of PDA thin films and powder particles was examined using SEM and TEM; their chemical compositions were studied by EDS and ICP-MS; the structure was investigated using electron diffraction and Raman spectroscopy; and the properties were evaluated with respect to the electrical conductivity and thermoelectric Seebeck coefficient. The results from this work provide a potential approach to control the structure and properties of PDA and cPDA materials through metal ion doping.