2014 | OriginalPaper | Buchkapitel
2. Studies and Implementation of Subband Coder and Decoder of Speech Signal Using Rayleigh Distribution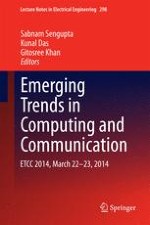 Erstes Kapitel lesen
Autoren: Sangita Roy, Dola B. Gupta, Sheli Sinha Chaudhuri, P. K. Banerjee
Verlag: Springer India
Abstract
In the last 40 years a number of coding techniques for analog sources (speech and images) has been employed. Subband coding, a kind of transform coding, splits analog speech signal into a number of different smaller frequency bands. By subbanding data rate has been reduced to 12.13804 Kbps [Sangita et al. Studies and implementation of subband coder and decoder of speech signal, Proceedings of national conference on electronics, communication and signal processing, 8–16,
1
] on 64 Kbps telephone line. In this paper a method has been proposed by which data rate has been reduced to 9.4875 Kbps using Rayleigh distribution where data rate can be reduced to 9.6 Kbps [Crochiere et al. Digital coding of speech in subbands, The BELL System Technical Journal,
2
]. Proposed method can save data rate which in turn saves bandwidth as well as spectrum. Moreover this proposed method provides acceptable probability of error and quantization noise i.e. SNR.