2019 | OriginalPaper | Buchkapitel
Synthesis and Characterization of PVP/CaCO3-Ag Blend Hydrogel by Gamma Irradiation: Study of Drug Delivery System and Antimicrobial Activity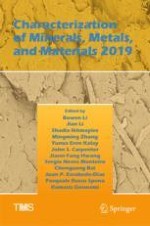 Erstes Kapitel lesen
Autoren: Angelica Tamiao Zafalon, Vinícius dos Santos Juvino, Luiz Gustavo Hiroki Komatsu, Duclerc Fernandes Parra, Ademar Lugao, Temesgen Samuel, Vijaya Rangari
Abstract
Chronic wounds are skin injuries with failed healing. They have become a public health problem that affects more than 2% of the population and the presence of bacteria resistances difficult of treatment.
Pseudomonas aeruginosa
is opportunist pathogens and the treatment is difficult and requires a long period of treatment. Hydrogels are structure polymeric tridimensional and biocompatible. They have been used as a controlled delivery system for treatment of topic infection. Studies have reported calcium carbonate and silver ion can improve the mechanical properties and biocide activity of hydrogel . Here in this study, hydrogels loaded CaCO
3
-Ag were prepared using poly (N-vinyl-2-pyrrolidone), poly (ethylene glycol), agar, calcium carbonate , silver nitrate followed gamma irradiation with 25 kGy dose. The gel fraction, behavior swelling and biocide action against
P. aeruginosa
was investigated. The degree of swelling of the hydrogel loaded CaCO
3
-Ag was 12% higher than the unloaded and exhibited antibacterial effects against
P. aeruginosa
and biofilm.