01.08.2013 | Ausgabe 15/2013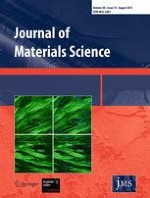 Synthesis and luminescence properties of ternary complexes of Sm

x

Tb1−

x

(TTA)3Phen nanoparticles and their surface modification
Zeitschrift:
Autoren:

Yaru Ni, Jing Tao, Chunhua Lu, Zhongzi Xu, Zhitao Kang, Feng Xu
Abstract
A series of Sm
x
Tb
1−

x
(TTA)
3
Phen (
x
= 1.0, 0.9, 0.7, 0.5, 0.3, 0.1, 0) complexes was synthesized by wet chemical method and characterized using Fourier transform infrared spectroscopy and fluorescence spectroscopy. The IR absorption spectra indicate that α-thenoyltrifluoroacetone was coordinated to the rare earth ions and that chemical bonds were formed between rare earth ions and the nitrogen atoms in 1,10-Phenanthroline (Phen). The fluorescence spectra of the complexes indicate that the emission intensity of Sm
3+
was enhanced by the addition of substitutive Tb
3+
. These data show that not only the ligands (TTA and Phen) but also Tb
3+
could absorb and transmit energy to Sm
3+
in the complexes. Formation of dual-core complexes appears to be responsible for co-fluorescence, which can greatly promote the illuminant ability of Sm (TTA)
3
Phen complex. After further encapsulation by SiO
2
, the Sm
x
Tb
1−

x
(TTA)
3
Phen@SiO
2
core–shell structure was very stable to UV light.